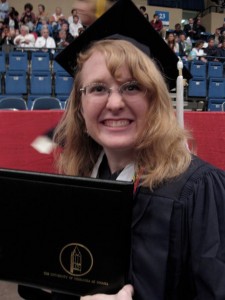 There were a couple things about having a quarter life crisis that didn't quite make this story on CBS2 (and holy crap, am I actually a "millennial"? I feel older than that) that I'd like to point out here.
Keep on working hard
Well, first of all, I'm extremely lucky. Or hard working. Or a combination of both. It wasn't easy finding a full time (or a well paying part time) job right after moving to Chicago in 2010, so I took on babysitting and security-guarding to pay the bills. (the sign language bit was in undergrad–while also working two part time jobs to pay the bills at that time.) THEN I got really lucky, landing my first FT  library job in my first semester of grad school, although it wasn't mentioned in the story. And it's an union job that's actually quite well-paying.  Other people I know aren't always so lucky. It greatly depends on location, timing, and your work experience.
As I said in the story, "Just stopping to realize things take time. Things will eventually go my way." It just takes a little while, you know?
I remember seeing statistics somewhere that it can take up to a year for recent college graduates to get full time work. Sometimes it takes longer. Sometimes shorter. I do believe that it depends greatly on your work, internship, and volunteer experience in order to get those jobs. Education is important, but it alone won't necessarily get you the job. Your work experience and initiative will really help move you to the top of the pile.
Job vs career
That leads me to another point. I tried to make a difference between a "job" and a "career."
Currently, my job exposes me to a lot of what librarians have to do in order to reach out to college students and improve services, but it is still just a clerical job. I hope for a capital-L Librarian job one of these days, where I can put my knowledge, experience, and enthusiasm toward reaching out to people, myself. I'd love to plan story times. I want to create guides for using databases for undergraduates, and I'd love to start sitting at the reference desk and start solving whatever people throw my way.  I especially want to try to get in a place where I can really help ensure accessibility, too, but I need to move up the totem pole a little bit more.
I enjoy the job I have (it sounded like I was an unemployed person in the story, kinda), but I'd love to be a librarian. In the fullness of time.
(Can I plug I Need A Library Job (INALJ) here while I'm talking about jobs? I volunteer with the Illinois page, so go take a look! There are so many great blogs written by my fellow volunteer editors about job hunting, too.)
Libraries are linked with the economy
Which leads me to another point. The economy definitely affects libraries and budgets.  No doubt sequestration is affecting libraries. It's affecting even the Library of Congress. Ideally, when the economy goes south, we should investmore in libraries to help people who are hit hard to try to find resources and jobs to keep them alive and housed. Unfortunately, budgets and politics don't always work that way.
So, as tax revenue falls, libraries have to make tough decisions about staffing and services. If people leave, positions might become attritioned instead of being posted. Similarly, libraries may try to expand services while maintaining the same number of employees, instead of creating new positions. This is the reality that faces libraries and a whole host of other companies, departments, and institutions. This is the reality us "millennials" face, as Jim Williams, the CBS reporter who interviewed me, said.
Maybe once upon a time the myth of "thousands of retiring librarians" was true, but in reality, and especially with the downturn, the jobs never became available. This is why I'm reminding myself that "these things take time," and working on finding opportunities that might help expand my skills.
Changing identities
One thing we didn't get a chance to get into in the interview is the whole changing identities premise. I was a student for years, and then suddenly, when I reached my goal of a MLIS, I wasn't a student anymore. It was so strange, and it's that feeling that precipitated my "quarter life crisis." No more deadlines. I can spend my time after work reading…for FUN. Weekends can now be spent running and riding bikes…and not with my butt parked in my chair while I work on papers.
And the other thing about graduating is that all the other goals that you've put off until the fuzzy future–paying off student loans, buying a house, starting a family, –suddenly come rushing back to the front burner, and it feels like you HAVE to accomplish all of these at once. You don't have to. You have time.
Student loans
Student loans are probably one of the biggest worries. I have some debt, all in the form of federal student loans, because of complex family issues. Paying them back seems daunting, especially if you calculate repayments straight up. There's actually a lot of options open to us federal-loan borrowers, including
the 10-year public service loan forgiveness (including nonprofit, private institutions)
20 year loan forgiveness
income-based repayment (IBR)
graduated repayment
pay as you earn
Take a deep breath, and read about options, and pick one that's might be your best bet. For me, I'm hoping for IBR and the 10 year public service loan forgiveness. My husband has fewer loans, and so he can probably pay his off sooner than the 20-year point, at which the remainder of your loans are written off.
Private student loans….erm…