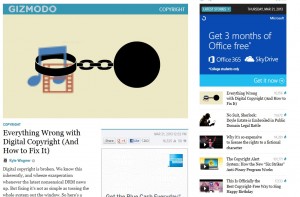 Thank goodness the Supreme Court ruled against the publisher! When I first heard about this case some time ago, I could kind of sympathize with the publisher wanting to protect their market share in the United States, but if they had their way, it would have severely impacted libraries. Especially academic libraries that have a ton of books manufactured overseas.
The Library Journal has an excellent run-down of the ruling, reactions to it, and other details.
This highlights just how important it is for us librarians to a) be aware of copyright laws and guidelines, b)  keep up on changes in copyright laws, and c) advocate for the freedom of information.
I am so glad I took a class on copyright laws for libraries since it really helped me to wrap my head around frequently contradictory rules, but it sometimes seems daunting to stay on top of changes.
How can we keep up with copyright news? Aside from maintaining a habit of reading general local/national/world news sites, there's a few other sites that will help us keep abreast of changes.
The Copyright Clearance Center has a digital newspaper with a handy email subscription option. It gathers news shared by other people and websites into one central location.
The Electronic Frontier Foundation (EFF) is another fantastic resource. While it is all about digital and internet freedom and not solely about copyright laws, the two are similar and are often linked.
Gizmodo has a whole section on copyright and changes in copyright laws. You can access previous stories on the same subject through the right rail.
Are there more sources I'm missing? Please share! I will add it to my list.