Comic Sans…it looks so innocent. So free, so trusting. People are drawn to using it as a font because it looks like handwriting. It's not as hard or harsh as Times New Roman, and it's more carefree than Arial or Helvetica.
It softens the blow when you have to deliver bad news.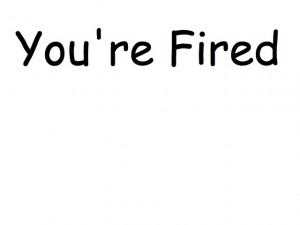 See? That isn't so bad! It's so cute! You're fired! It's also great when you're sending out important information to all your employees. It makes you look professional while being approachable at the same time.
If you sincerely aren't ready for Comic Sans, you can try out the training wheels version, Comic Serif. You can see what it looks like here. It's like a step up from Times New Roman if you're not comfortable going serif-free just yet. It's quite understandable–not everybody appreciates the subtle power of Comic Sans. Going with Comic Serif gets them warmed up to the idea that you truly have a mastery of word fonts.
Here is an inspirational photo to encourage you to use Comic Sans or Comic Serif.