Socket is her official name, but we call her Squeaker–guess why?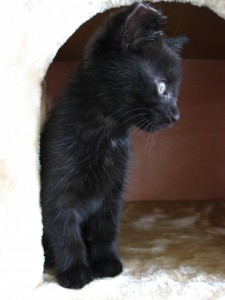 She is an all black kitten, with big, expressive, and curious eyes, and her right ear is clipped, I believe because of a wound. She was found under a porch, alone, by somebody who probably heard her squeaking for some love and food. She was brought to PAWS Chicago, who determined she's about 6 weeks old, and then we got to foster her.
She squeaks so we can pick her up and hug her, squeaks so we can bring her food, and also some kitten formula.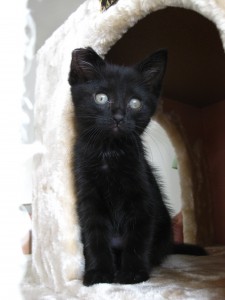 She is very sweet, and loves to sleep on a pillow with us. We think she is closer to 4 weeks old rather than 6 weeks, because of the way she behaves–not quite weaned. We discovered that her constant squeaking when we brought her home was because she was searching for milk, so we bought some kitten formula for her. We're going to take her back in about 2 weeks for spaying, but if she's not quite big enough, we'll foster her for another week or two.
In other news, Bordeaux was adopted! We presume Jalopy, his brother, was adopted too, because they're such a cute pair.