While I'm not sure my husband and I are quite ready to adopt another cat or kitten, we definitely wanted to have more cats around at least on a temporary basis. That's where fostering comes in. PAWS Chicago is a great no-kill shelter that does more than "no kill." They even go around to all the pounds to rescue dogs and cats that have been picked up, before the pounds kill them. That is definitely worth applause!
Our first two charges were two male kittens who needed to put on some weight before they got neutered. They were the most adorable, cuddly kittens, only 2 months old. Here's Jalopy: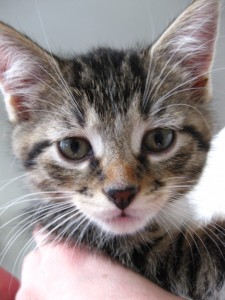 Isn't he cute? He's very playful and curious–just HAD to investigate everything. He loves to chase feather wands and attack chirping toys. In fact, he wore out the chirping toy we bought him only the day before he went back to PAWS.
And here's Bordeaux: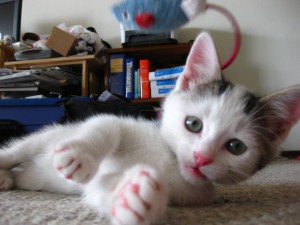 He loves to play too, but not nearly as much or to the level of intensity that Jalopy does. He's the cuddly guy who loves to curl up on laps and take long naps. Especially the way my skirts make a "hammock" for him, that was incredibly comfortable, apparently! I miss this guy the most. I doubt they'll have to wait long for a family.
When we took them back to get them neutered (poor guys didn't know they were going to get their balls cut off), we had our choice of cats to take home with us. We don't see them; we just pick from their verbal descriptions. And they described Caesar, a 1-2 yr old, very large, Maine Coon type cat, as a cuddlebug who is very sweet and would be really easy on us and our cats. So we decided to give him a chance. His story was, he was surrendered by an owner for unknown reasons, been at the shelter for months, so they decided to make space for other cats to get adopted before putting him back out on the floor. Kind of give him a break. Here's Casear: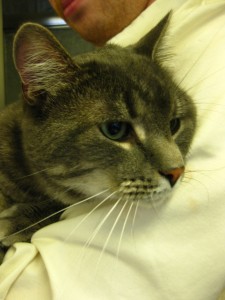 He is cuddly. But without any warning, he will start growling, snarling, scratching, and biting us. He looks happy, but he's actually angry all the time. He chooses when to cuddle, but we're still left walking on eggshells because we're not sure when we might upset him or when he'll transform into Mr. Hyde. We've joked that he has Borderline Personality Disorder. We're scared to use the restroom anymore, choosing instead to go to one of the two public toilets in our building. Showers are another matter. We have to use Ove Gloves to handle him, because we have nasty scars from his attacks. I have gotten more, and more serious, wounds in two days than I had in the two weeks with the two kittens. We think he'd do best as an only animal–no other cats or dogs or etc–in a quiet home with lots of space and no children.
One of our two cats, Mistletoe, is a very good people/cat reader, and she tried to warn us by moaning at him in a way we've NEVER seen her before. And we've seen her at her worst, severely undernourished, with worms, and cranky. She liked the kittens after watching them warily for a while. Missy, you were right. Caesar is a threat. So we're calling PAWS tomorrow to explain the situation, and bring home different kitties to foster. I think this time we'll stick to kittens, because it's an easier adjustment for our cats, and for hte kittens.
I hate to give up, but some say that it's wiser to acknowledge defeat. This is one of those times where I think acknowledging our defeat is a good thing.