Thank goodness for my ALA scholarship, but to be quite frank, it ain't enough, so I've been researching alternate ways of making money. Especially since the mom of the family I babysit for was able to work something out with work, so she won't be needing me as often. While it's great she can spend more time with her kids, it does correlate into less income for me. I did apply for two new library jobs in the last two days, so wish me luck.
Anyway, here's what I'm really getting at–can you buy stuff from my Etsy shop? Rest assured that you're helping this student become a world-class librarian. Also, the more money I make, the more kittens I can foster for PAWS Chicago.
Also, if you see something you like, but wish it was a bit different, let me know. If you don't see something you want, ask me. I'll try to make what you're looking for. If you have a list of quotes (for the quote magnets) that you wish I'd make, ask me! Here's one of my favorite quotes: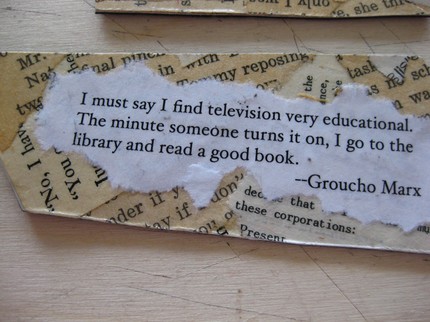 Okay, that's really all I have to say…for now. Please, think of the kittens, and buy from my shop. The kittens thank you. My bank account thanks you. I thank you.